Co/Lab's mission is to help foster the next iteration of Jewish life in Portland, hosting programs that examine issues of personal meaning and social change through a Jewish lens. 
The "Co" part is important: It's a reflection of our commitment to bring people together to dream, experiment and collaborate so as to create events of the greatest interest and relevance to our community.
We have an inclusive and non-judgmental approach to Judaism. We want to open the door wide to all those who seek to explore Jewish identity and ideas in new and innovative ways. And above all, we trust in curiosity, collaboration, and experimentation to lead us to new vistas and connections.
For you.  Your mother was Jewish. Your dad was.  Or your friend's parents growing up were Jewish.  Your partner is Jewish or even…. some of your best friends are Jewish.  Or, you're just you and you're interested in what's happening at Co/Lab.  You get the idea: if you want to connect to Co/Lab we want you to hang out with us. 
Co/Lab is not a synagogue or a spiritual community – but we love those spaces! In fact, our founder, Rabbi Josh Rose, was a congregational rabbi for 14 years.  We plan to invite Portland's many wonderful rabbis to participate in our programs, and we welcome those for whom synagogue life is central and those for whom it is not.
Keep an eye out for events that interest you and jump into the conversation. It's that simple. Sign up to hop on our email list, and follow us on Facebook and Twitter.
Or reach out and share your crazy and not-so-crazyideas.  Every Co/Lab program comes from the "Magic Wand" conversation with Rabbi Josh: 
If you could wave your magic wand and have the Jewish event or experience you want in Portland, what would it be?  
Something you'd like Co/Lab to explore? Maybe you have the next great Co/Lab idea in mind already! Reach out to Rabbi Josh (rabbijosh@colabpdx.org) or fill out our contact form below to kick it around, or just sit down over coffee and schmooze. 
Rabbi Josh Rose started Co/Lab after a decade and a half as a synagogue rabbi (first in Boulder Colorado and then at Shaarie Torah in Portland). He is a believer in synagogues and the awesome work they do, but his Jewish path was to head in more unbound and open directions. An avid motorcyclist, a mediocre guitarist and a music freak, he holds a Master of Hebrew Letters from Hebrew Union College and a Master of Theological Studies from Harvard. He's a native Portlander, was at the '77 Blazer championship game as a boy, and lives here now with his amazing wife Channah, their boys Eliav, Akiva and Rafael, their little terrier Ethel and tiny Chihuahua Alan.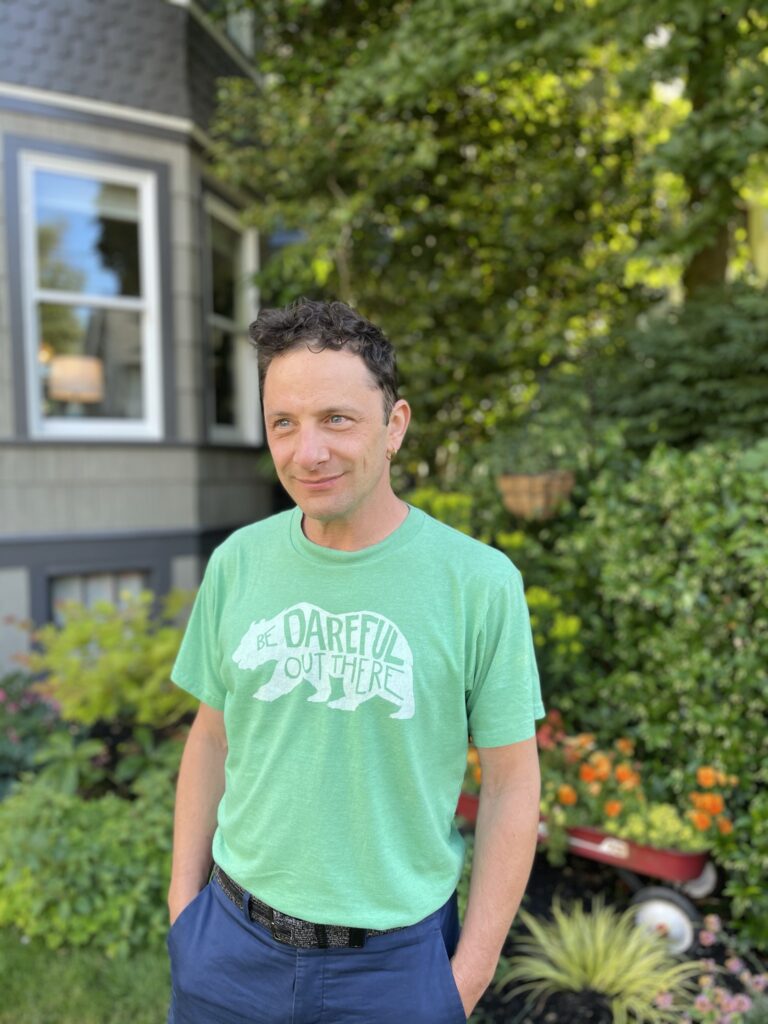 This important group of individuals is using their voices to work with Rabbi Josh to get Co/Lab right.  They attend the programs with an eye toward giving feedback to Rabbi Josh about what's working and what we can do better.  They also help expand Co/Lab's reach by spreading word and by sharing their ideas about where Co/Lab might go next. Each is a wonderful and creative person in their own right and Co/Lab is lucky to have them aboard. 
Dana Bacharach was born in Israel, but grew up in Portland. More coming soon. 
Gabriel Stein-Bodenheimer is a trans & queer Jewish writer and teacher. He is currently working on a memoir about the year he started T and transitioned while teaching at a Catholic high school—and was not fired. His words have appeared in Kaithe, Alma, and the forthcoming second edition of Trans Bodies, Trans Selves. Stein-Bodenheimer has taught high school English for nearly a decade now and is a fierce advocate for trans and queer youth. He is the recipient of the Kathleen Cecil Award for Excellence in Teaching. His tutoring company, Cabin Window Bright Tutoring, tutors PK-12 students in Humanities subjects. He lives in Portland, OR with his wife and two cats. 
Ilana Rose Cloud is an illustrator, web & graphic designer, photographer, communications crafter and lover of song. She has been creating Jewish circles in Portland around community, food, femininity, and song for 5+ years. Ilana has worked on multiple Jewish farms and previously co-lead Portland's Jewish CSA, Tuv Ha'aretz. She co-facilitates a Jewish womxn's group in Portland and creates illustrations filled with magic, color and line. View her website and her work at: ilanarosecloud.com.
Megan Harned has been a Portlander for eight years and a part of the Jewish community for about five of those years. During this time, she's done everything from write art criticism, sell theater tickets, coordinate the education team at OJMCHE and learn with Tisch PDX's third cohort. Megan is thrilled to bring her background in Art History, and Sustainability Studies, and passion for Torah and Jewish community to help nurture creative ways to come together and explore our diverse Jewish identities. 
Roy Kaufmann Born in Israel and raised in South Africa and the United States, Roy is first and foremost a father of four kids and a lifelong seeker. With a background in media relations, media strategy, public affairs, and speechwriting, Roy is an award-winning communications practitioner with 20 years in the PR trenches – from PR agencies to the political campaigns to the halls of government. A lifelong fan and student of comedy and improvisation, Roy studied at the Second City Theater training school in Los Angeles, one of his favorite academic experiences. Roy holds a master's degree in international relations from the University of San Diego and a bachelor's degree in international relations from the University of California, Davis.
Natan Meir is the Lorry I. Lokey Professor of Judaic Studies in the Harold Schnitzer Family Program in Judaic Studies at Portland State University. He was born in Jerusalem, raised in New Jersey and Quebec, and educated in New York. He has also been a member of Jewish communities in England and Washington, DC, and enjoys teaching Jewish history, culture, and synagogue skills to diverse groups of folks.
Chirona Rose Silverstein (they/them) is a genderqueer, bisexual, polyamorous white Jewish engineer from New York who has been living in Portland for the past 11 years. They are committed to working towards a more mindful, inclusive, and liberated society. They are a program manager, DEI practitioner, facilitator, and certified coach, supporting clients in unblocking themselves from the challenges they are facing. They spend time engaging in local mutual aid and wealth redistribution efforts, finding grounding and connection through relationships, time in nature, mindfulness, singing, and various forms of body movement including yoga, skiing, cycling, hiking, and many others. They have been with their partner Rae (he/they) since July 2021 and are a pet parent to a very sweet big boy pup named Oz who was born in 2013.
Rachel Stern has been teaching yoga for over 15 years and has been a Jewish educator for even longer.  The combination of yoga with Jewish stories and values continues to inspire her offerings. In 2018 Rachel founded the Portland Jewish Yoga Collective, to provide opportunities for all people to have an embodied experience of Judaism. In 2019 she  graduated from the 1st cohort of TischPDX, and currently serve on their board of directors.  You can find out more about Racehl and her work at her website, heartshapedyoga.com.  
want the inside scoop on Co/Lab and what's coming next?
add your email below to receive email updates and info about upcoming programs.
leave a message or a question