Judaism and the Psychedelic Renaissance 2023:
A Portland Gathering
Join us on June 25, 2023
10 am - 5 pm
Last year's gathering was a powerful day of coming together and exploration.  This year we are building on that foundation as we continue to expand Portland's Jewish psychedelic conversation and community.
As was the case last year, Co/Lab will present local and national teachers and rabbis who have thoughtfully engaged the topic of psychedelics and the Jewish experience.
We will explore Jewish history to shed light on the contemporary psychedelic discussion and weave together embodied Jewish practice as an important extension of the conversation. 
Whether you are an experienced psychonaut or brand new to conversation, mark your calendar for June 25th for a day that will mind, heart body and soul together to delve into this increasingly important
Want to know more or to get involved?  Email Rabbi Josh (rabbijosh@colabpdx.org). 
You can register here!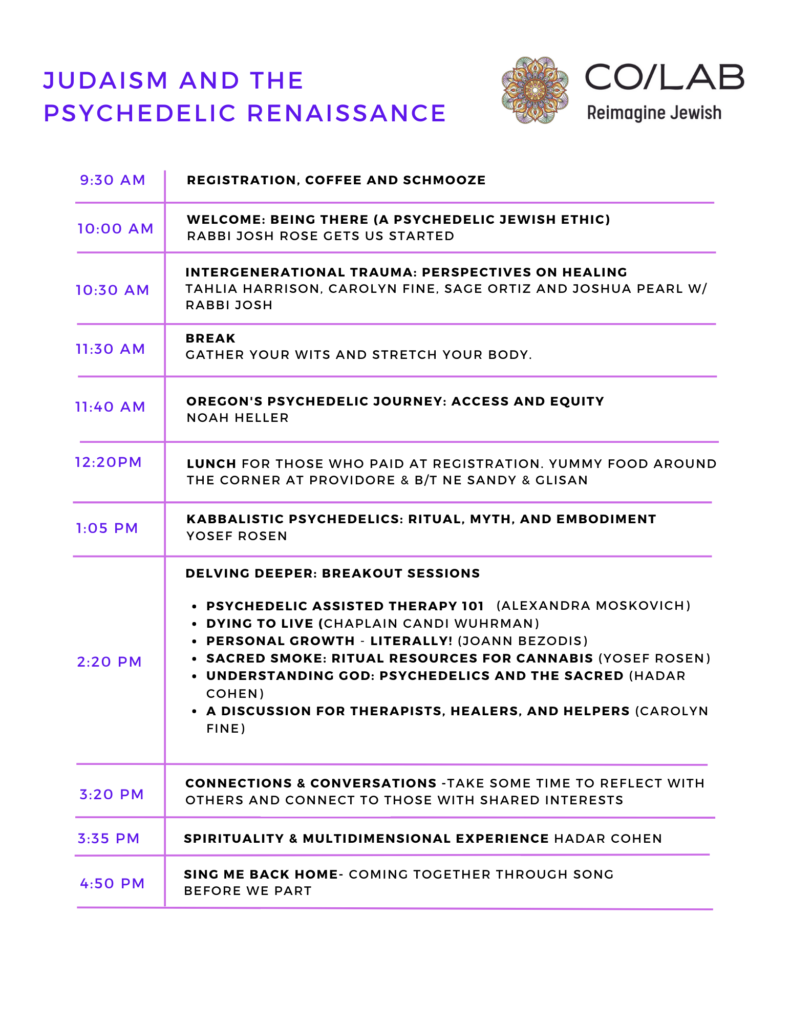 Meet two of this year's teachers
Hadar Cohen
Co/Lab is excited to welcome Hadar Cohen, an Arab Jewish scholar, mystic and artist. She is the founder of Malchut, a spiritual skill building school teaching Jewish mysticism and direct experience of God. She is a 10th-generation Jerusalemite with lineage roots also in Syria, Kurdistan, Iraq and Iran. Hadar weaves the spiritual with the political through performance art, writing, music and ritual. Her podcast, Hadar's Web, features community conversations on spirituality, healing, justice, and art. hadarcohen.me or malchut.one. // @hadarcohen32
Yosef Rosen
Yosef Rosen is an educator, ritual designer, DJ, and recipient of a doctorate in Jewish Studies (UC Berkeley). His public offerings solicit a merging of what modern society often keeps separate: the contemporary and the ancient, the academic and the experiential, the religious and the secular, the spiritual and the somatic. An expert in the history of Kabbalah, Yosef works to translate the mysteries of the past into usable mythologies and practices for filling everyday life with wisdom and devotion
In addition to Hadar and Yosef, we will be joined by teachers such as Tahlia Harrison and Carolyn Fine, who will host a panel on Jewish intergenerational trauma, Noah Heller, who will discuss the legal and economic situation with psychedelics in Oregon through the lens of equity, breakout sessions with information for those who just have questions with practical, hands-on information about psychedelic assisted therapy – and even a step-by-step lesson on how to grow mushrooms.  All this and more at this one-of-a-kind Co/Lab event.
National Speakers included Rabbi Zac Kamenetz, founder of Shefa: Jewish Psychedelic Support, and Madison Margolin, psychedelic journalist and co-founder of Double Blind Magazine.
And we had a embarrassment of riches in local psychedelically thoughtful teachers: author Seth Lorinczi, who spoke about Jewish intergenerational trauma; psychedelic guides Carolyn Fine, Julianna Bright and Justin Levy; Rabbi David Kosak of Congregation Neveh Shalom; Oregon activist and lawyer Jon Dennis, mindfulness teacher Kerry Goldring; and Donna Zerner, who shared her one-of-a-kind Jewish psychedelic stand up comedy.
In addition to the deep exploration and ideas that that were shared the day will be remembered for planting the seeds of Portland's Jewish psychedelic community. Our final session was focused on laying the groundwork for future gatherings.
Video highlights from the 2022 Judaism and the Psychedelic Renaissance
Seth Lorinczi, Using Psychedelics to Heal Intergenerational Trauma (1 of 3)
Seth Lorinczi and Carolyn Fine, Using Psychedelics to Heal Intergenerational Trauma (2 of 3)
Seth Lorinczi and Carolyn Fine, Using Psychedelics to Heal Intergenerational Trauma (3 of 3)
Rabbi Zac Kamenetz, Keynote Address, The World That is Coming
Donna Zerner, "Psychedelic Schtick"
Jon Dennis, Oregon and the Psychedelic Renaissance
Julianna Bright, Carolyn Fine, and Justin Levy, A Panel of Psychedelic Guides
Sign Up for Updates from co/lab
want the inside scoop on Co/Lab and what's coming next?
add your email below to receive email updates and info about upcoming programs.